Guru Jara – Pilgrimages
---
.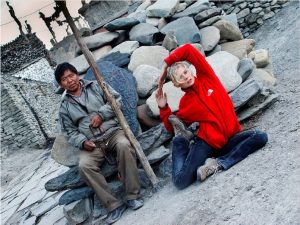 Taking an example from wandering monks, Guru Jara was living his life as a pilgrimage over 20 years. The art of spiritual journey is one of the extraordinary spiritual techniques he started to share in 1995 (bio), when he started to teach the public. Thanks to him, thousands of people visited places they never dreamed of.
When on a pilgrimage, we leave our comfort zone and we venture into the unknown where we have to be focus on the present moment to avoid danger and transform common tourism into the spiritual experience.
On the pilgrimage we find ourselves in situations where we find it impossible to live in the place where we find ourselves. Right here the repressed feelings rise to the surface, right here we experience deep inner connection with our soul, and right here we have the opportunity to grow fast, effectively push our limits and transcend the limitations of our mind. We can open our heart and purify long forgotten pains of the past life. During the real pilgrimage, unlike traveling, we find inspiration for our lives and we meet people and situations that expand and enrich our world and bring new opportunities into it.
.

Guru Jara knows exactly how to transmit this experience. To open our eyes to a completely different world at the places where the common tourist finds only superficial attractions. The Master shows the depth of both the sacred and ordinary places as well. He teaches how to see the sings on our way, not only on the pilgrimages, but in our daily life to.
Thanks to many years of his personal experience he knows the magic places hidden from travel agencies to this day. He knows which place on earth is the right one just for you.
His disciples experienced deep spiritual moments under his direct leadership on the pilgrimages in India, Egypt, Morocco, Thailand, Nepal, Indonesia, Malaysia, Spain, France, Scandinavia, Peru, Jerusalem, Philippines… and also in their own country, in their daily life. Because how Guru Jara says:
"The most important pilgrimage measures only 30 cm
and leads from the head to the heart and from the heart to God."
.
.

---
.
"It was almost 80 km left to Santiago de Compostela. Guru Jára had just said: "We will meet in Santiago in front of the cathedral in two days… if I am still there." After I recovered from the shock, I asked in the near bakery if they could show me on the pilgrim map where I was and where the path continues. This last part of Santiago´s pilgrimage is very beautiful; it leads mainly through the woods and it directly invites for deep contemplation. One more thing was helping me to delve into myself; Master recommended us to pray to Virgin Mary from the beginning of the pilgrimage. (We started in Lourdes, where the healing spring of Virgin Mary is, and after Santiago, we were supposed to continue to Fatima in Portugal, the place of her multiple revelations). I stuck to the prayer as the drowning man holds on to the piece of floating wood and I started to understand Guru´s words about the immense power of traditional prayers repeated by generations of people during the centuries.
As the inner pressures were fading away, I realized that I was longing for the possibility to wonder by myself and Master made it possible for me. After some 20 km, I met another pilgrim from our group and I realized than everybody received the chance to go on their own. Thanks to our encounter, we dared to go overnight and we continued in the contemplations keeping the distance so that we could see each other. When the tiredness came, we slept near the road. After two hours, barking dogs woke us up. We knew from the Guru's teachings that a barking dog announces a delay on the road, so we hit the road with the sky full of stars above our heads again. We reached the cathedral the next day at one o´clock in the morning. Until these days, after twelve years, I am still able to remember the feeling of humility and gratefulness as I was descending the stairs and I saw Master waiting at the arranged place…"
Nechbet           .
Friday,  21st  of April, 19th day of the Pilgrimage to India
"As Guru Jara suggested, I set out to visit Dalai Lama's domiciliary monastery. Guru told me to not be angry with myself even if I fall asleep, because the subtle energy of repeated meditation in the monastery will work on my aura regardless. As was said, so it happened. Because I was tired, I kept dozing off during my attempts to meditate, however, I was left feeling very refreshed. On my way back to the mountains, I managed to wave to His Holiness Dalai Lama, who was said to be coming back from his journey to Japan. His clasped hands as a sign of the salutation of the divine within us, which I interpreted as a blessing for my upcoming 40 hours alone in the Himalaya forests in the altitude of around 2500-2800 meters, northeast form McLeod ganj. All of that was recommended by Guru Jara in order to allow me to get closer to myself away from people, to clean my inner self and not to be afraid of bears and snow leopards. For those will not, allegedly, as according to Guru's answer to my question about the safety of the stay in the wilderness, ruin their karma by eating a rather gaunt hermit."
Pavel           .
"We traveled with Guru Jara through a lot of beautiful, rare and sacred places almost all over the world. We had the chance to experience mysticism firsthand, we were exploring fascinating places, cathedrals, we walked through several parts of Santiago´s road, we visited healing springs in Lourdes, we were training our body, mind and heart in the climbing area El Chorro in Spain, we were learning strong will while rock climbing in Morocco, we touched the essence of yoga in Indian monasteries… All of that was interlaced with theoretical and practical teachings from all the fields that Guru Jara taught.
Despite the fact that we often traveled in groups, everyone was experiencing his own disengagement from the stereotypes of everyday life. The pilgrimages brought a new perspective on everyday concerns for everyone; they gave them a great chance to touch their own soul and to be in the present moment in such a way, which a warm sofa at home could never provide you. We often experienced extreme situations, which tested how we are concentrated on the present moment "here and now"."
Luci
     .
.
.
.
---